It has been just 3 months for me since I moved out of India, but it seems like forever since I savored these delicacies from back home. So, here I am again, sharing what I dearly miss from my country the most and it's nothing else than just food!
Made with fried Indian bread, spiced water and tamarind chutney this was the first thing that I was warned of not finding in Europe. Indeed the worst of my fears materialized and I am still hell bent on trying to get my hands on these tangy lip smackers .
Moving onto to the specialties of North India, this is the ultimate signature dish of Punjabi Cuisine. With variants in different parts of the country this dish boasts of a huge international acclaim. Marinated fried/roasted chicken cooked in tomato-onion gravy with a plethora of spices, my taste-buds yearn for this delicacy since the day I stepped here. There might be some wannabe 'Indian Restaurants' in the US and Europe serving it but the original taste can be experienced in India only.
From the most exotic time-consuming preparations to these simple 2 minute Maggi noodles. Although, presently battling allegations of lead contaminants in it, the plasticy Chinese noodles available in markets here sans the spices mix (Maggi masala) are no match for delicious Maggi.
Chai
Hitting a more simpler note, the famous Cut Chai (tea) is THE official hangout drink for the average Indian. Americans/Europeans may call it Tea Latte, Russians call it Chai itself, Indians certainly indigenized the British culture of drinking tea by adding Cardamom/Cinnamon and/or Ginger/Cloves with half portion of sweetened milk.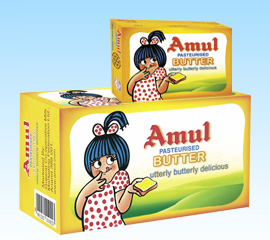 Amul- The Taste of India
I realize the value of this tagline after coming to Belgium. No matter what you cook, Aloo Parathas, Butter Chicken or any simple curry the taste is incomplete and never the same without this salted butter found exclusively in India. This is the one thing apart from drugs/explosives that is not allowed in International travel otherwise I would love to load my bag with a couple of these packs.
Born and brought up in Central part of India, I find this blog about Indian food getting biased towards North Indian cuisines. Restoring the balance is the staple food of South India, Dosa/ Rice Pancakes (as my International friend said while I was trying to make them here!). Served with Coconut chutney, Sambhar and Potatoes this would be the penultimate desire to fulfill once I am back home.
Well, this is a sentiment only my fellow Indoreans (from city of Indore) can comprehend. Batata Poha/ Poha Usal/ Poha Jalebi with Sev being the staple breakfast for children's school tiffins, the morning walkers and the office workers, I miss waking upto a plate of this sumptuous ricemeal.
Chewing the mixture of areca nut and betel leaf is a tradition, custom or ritual which dates back thousands of years from India to the Pacific. Paan is chewed and finally spat out or swallowed, the main reason we find sidewalls in shady buildings and government establishments painted red! Mainly acts as a mouth freshener after meals if taken without tobacco. Available throughout India in small roadside shops selling cigarettes and tobacco but impossible to find outside the South Asian subcontinent.
To sum up, writing this blog turned out to be a masochistic task rather than a mild remembrance. Left totally mouth watered and famished searching for the appropriate pictures and making correct descriptions. I have also added links to the preparations in the caption of the photos.
Hope you enjoyed reminiscing the food heritage of India with me :)